Photo by 兀鱼横流
在过去十年里参与成都音乐场景的朋友们都会认识爱书华,迷一般的摇滚变色蝴蝶和Dizzy Love的神秘主唱,由长长的棕色长发绺,烟熏的眼线,纹身的胳膊抱着一群自由奔放的小孩子。 对于他的创作合作,包容性和灵性的观点而言,他的音乐产出众所周知,爱书华是一位在舞台上和舞台下散发活力和安静的沉思的人。
Anyone involved in the Chengdu music scene over the past decade will be familiar with Joshua C. Love (爱书华), the enigmatic frontman of prolific psychedelic rock group Proximity Butterfly and current electronic pop trio Dizzy Love, identified by his long brown dreadlocks, smoky eyeliner, armfuls of tattoos and free-spirited children. Known as much for his music as he is for his views on collaboration, inclusivity and spirituality, Love is a person who exudes a vitality and confidence paired with a quiet contemplation both on and off stage.
Joshua C. Love 爱书华, 2016.
Photo by 陈闵川.
爱书华和他的妻子,同时也是贝斯手、歌手和老师海珊珊以及他们三个出生在加拿大但在中国长大的孩子住在成都。 "我的母亲和父亲都是空军,我的继父一直待在军队,所以我小时候常来往于东海岸和新墨西哥埃尔帕索,"说到他在美国的成长经历,他说,"如果今天我回国肯定会感受到很多文化冲击,关于当代情况,关于电视上的东西,人们在谈论什么…"像他们的父母,爱孩子的夫妻们都是双语教学的,双胞胎只是最近才分清中英文的区别。
Joshua lives in Chengdu with his wife, bassist, vocalist and fellow teacher Heather Christine Love and their three Canadian-born children all of whom have grown up in China from infancy.
 "My mother and father were both in the air force and my stepfather was in the army, so I spent a lot of time moving around down the East Coast and in El Paso, New Mexico," he says of his own upbringing, "if I went back today I would feel a lot of culture shock with the way things are, things on TV, what people are talking about…" Like their parents, the Love children are all bilingual, with the twins only recently picking up on the difference between English and Chinese.
Josh and Heather, Zebra Festival, 2009.
Photo courtesy of Dan Sandoval.
爱书华于2002年搬到成都当英文老师,不久之后认识海珊珊。"当时候成都就像《现代启示录》那部电影,"他说,关于当时理工大学的周围,"哪儿都能看到香蕉树,稻田,牛拉车,老太太在府南河洗衣服,对我来说,它们充满了灵性。"在这个环境里,变色蝴蝶诞生了。
2003年乐队在他们夫妻的客厅诞生,变色蝴蝶为成都的一个DIY摇滚乐队创造了无限可能。爱书华反映在乐队的第一次排练上:"原来的鼓手陈迪兮从来没有打过架子鼓,海珊珊也从来没弹过贝司。我们只是想用音乐讲故事。" 变色蝴蝶在国内不停地演出,他们赚到钱就用来添置乐队装备,巡演和录音。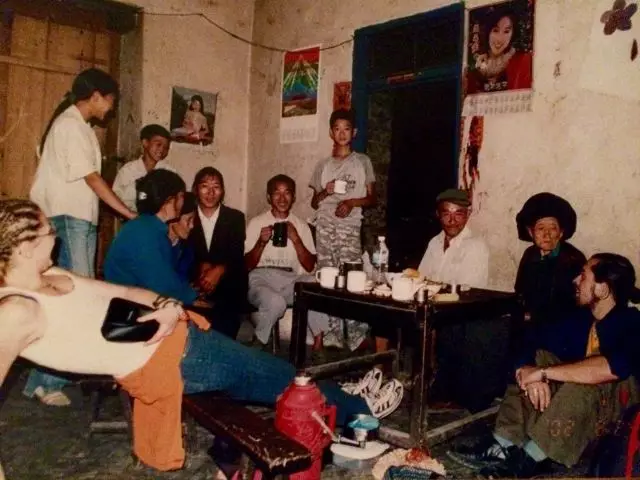 Chengdu, 2002.
Photo courtesy of Joshua Love.
Love first moved to Chengdu in 2002 and met Heather soon after. "It was like Apocalypse Now," he says of the area around Ligong University at the time, "banana trees, rice paddy hats, ox pulling carts, old ladies washing their clothes in the river – to me it had an enormous spirituality to it." This was the environment in which Proximity Butterfly was born. Starting from humble beginnings in the Love's living room back in 2003, Proximity Butterfly set the bar for what was possible for a DIY rock band in Chengdu. "Our drummer Chen Duxi had never touched a drum set before, Heather had never played a bass in her life," Josh reflects on the band's first rehearsal, "we literally just wanted to tell stories."  The band performed ceaselessly around town, pouring what little money they made back into gear, touring and studio recordings.
变色蝴蝶海报, 冰石,四姑娘山.
Photo by Kristen Ng.
在2000年中后期成都经历很多变化,道路被建设得更加宽阔,有了二环和三环路。城市以惊人的速度开始发展,而当地音乐和艺术场景也变了。"我觉得从那时候起,成都有一种从根本上让人感到自豪的转变。"爱书华说,"人们开始结合资源把艺术和音乐的梦想变成现实。" 开始有很多将音乐场景聚集在一起的合作活动,比如斑马节和Cookin' Chengdu。When the roads were broken down, ring roads built and the city began to develop at breakneck speed around the mid-late 2000s, too came vast changes in the music and arts scene. "There was a shift in attitude that allowed you to be proud to be from Chengdu," Josh reflects, "ideas to do festivals and art things became possible with the resources that became available." Collaborative events that brought the music community together such as Zebra Festival and Cookin' Chengdu came soon after.
"麻糖是很多人开始的地方。
Everybody that's doing something today was at some point engaged with the Hemp House."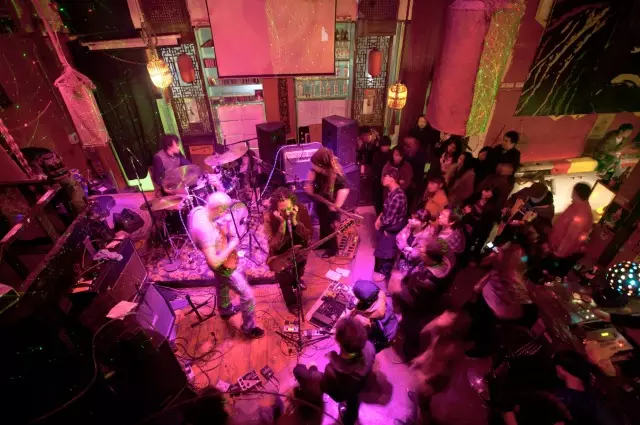 麻糖 Hemp House, 2011.
Photo courtesy of Dan Sandoval.
"当时,麻糖是一个创意人的蜂巢,"他说,"不管是一场嘻哈演出,重金属或绘画的活动,大家都会去那里聚会,然后彼此结识。那是一个黄金时期,感觉像一个亚特兰蒂斯。
十三年来,变色蝴蝶发布了七张专辑,进行了好几次国内外的巡演,得到了许多乐队所渴望的成功。从小咖啡馆演出到成都最受欢迎和标志性的摇滚乐队之一, 这并不容易。担任了多年变色蝴蝶经理人和代理人爱书华说:"很多人认为做乐队只是喝酒和写曲,实际上你必须做一个能在凌晨5点的时候起来将事情安排妥当,又能在演出中保持狂热和活力的人。"随着他们去年的专辑《Medusae》在兵马司发布后,变色蝴蝶暂停了演出 。
"At that time the Hemp House was a beehive for creative people," he says, "it didn't matter if it was a hip-hop night, heavy metal or painting event, everybody would go there to hang out, everyone knew each others names, it was a golden period, it felt like an Atlantis."
Over thirteen years, Proximity Butterfly released seven full-length records, toured both nationally and internationally and enjoyed a degree of success that many would aspire to, elevating themselves from café gigs to one of Chengdu's most well-loved and iconic rock bands. But it certainly wasn't easy.
"A lot people think being in a band is just about getting wasted and making new songs," says Josh, the band's manager and agent over the years. "You have to be that boring guys that wakes up at 5am and sorts the logistics, you have to be the crazy guy that keeps it real in the live shows – it just got too much." Following the release of their latest album Medusae on Maybe Mars last year, Proximity Butterfly is now on hiatus.
Happy Ending by Proximity Butterfly
《美好的结局》变色蝴蝶
现在爱书华把他的音乐焦点转向新的乐队Dizzy Love,一个由居住在北京的丹麦制片人Jelly Soendberg和来自意大利的鼓手Cecche组成的三人组。尽管Dizzy Love今年初才组建,但他们已经被邀请参加国内各地的音乐节,包括红原草原音乐节,康定音乐节和Morning House早上好的 春游音乐节。"Dizzy Love是摆脱变色蝴蝶这个名字的一种方式,"爱书华说"如果不叫变色蝴蝶人们还会同样喜欢吗?
"Love has now turned his musical focus towards a new project called Dizzy Love, a trio comprised of Beijing-based Danish producer Jelly Soendberg and Italian drummer Cecche. Despite just forming earlier this year, Dizzy Love have already been invited to play at festivals around the country including Hongyuan Grassland Music Festival, Kangding Love Music Festival and Chunyou at Morning 早上好. "Dizzy Love was a way to shake off the name," he says, "would anybody even like it if wasn't called Proximity Butterfly?"
Dizzy Love, Kangding Love Festival.
Photos by 满足视觉&明嘉影像
虽然爱书华还是担任作曲和主唱,Dizzy Love的声音有别于变色蝴蝶的重型摇滚 riff 和鼓。Soendberg丰满的键盘和数字制作,以及Cecche的电鼓节奏都围绕着他独特的人声展开。从《Medusae》的爱情歌开始,Dizzy Love 继续前行。新的组合品质宏伟而梦幻,一个成熟的新形电子流行民谣。"变色蝴蝶对我来说总是黑暗的,像不断投石的魔鬼… 而Dizzy Love如一个开放的阀门,通过各种不同的能量,让我谱写多彩的爱的篇章。
With Joshua still comfortably in the songwriting seat, Dizzy Love moves away from Proximity Butterfly's heavy rock riffs and drum rolls as the fullness of Soendberg's keys and digital production and Cecche's electric drum beats encase themselves around his distinctive chorus-drenched lyrics. The musical direction picks up where love songs on Proximity Butterfly's curtain call album Medusae left off, the new combination has a grandiose, dreamy quality to it, a mature new form of electronic pop balladry.
"Proximity Butterfly was always darker for me – throwing rocks at the devil and calling out the bullshit," he says, "Dizzy Love is the opening of a valve that allows a different kind of energy to flow through – to write about love and colourful things."
"这不是假象,这是最真实的
This is not a performance – this is the most real it could possibly be"
听着Dizzy Love的音乐,能很明显的感觉到充满了爱,坚定的信念和饱含的诚意使变色蝴蝶如此耳目一新。我们开始讨论他们的新歌《Bliss》:"一个人要做最真实的自我,爱情帮助我们做到。 当你爱上别人时,你毫无戒备的愿意接受一切。"
Listening to Dizzy Love, it is immediately apparent that Joshua has put the love back into his music with all the sincerity and conviction that made Proximity Butterfly so refreshing. "It is entirely okay to be as honest as you can be; and love helps us do that," Joshua says of their latest track Bliss, an old song which has finally found its wings with Jelly's production. "When you are in love with somebody, you put your guard down completely and are just willing to accept everything."
爱书华和星期三旅行的主唱吴卓玲相识十多年。"我们之间有绝对的信任和尊重。"他说,关于这位歌手,吉他手和电子制作人"我们总是互相支持,有着一个非常良好的关系。"在最近腾龙洞迷笛音乐节,他们决定让这份友情在音乐中也开花结果。"希望这份诚意和积极的态度能够鼓舞到别人,让他们印象深刻。
Joshua has known Wu Zhuoling, frontwoman of Wednesday's Trip for over ten years. "There's always been a trust and respect between us," he says of the singer, guitarist and electronic producer, "we always support each other and have a very positive relationship." At the recent Midi Festival in Tenglong Caves, the pair decided to bring this long-running musical friendship into fruition. "Working together in good faith with positive energy will hopefully inspire people, let's make it unforgettable."
变色蝴蝶歌迷们可能会对乐队的暂停感到失望,但爱书华依然在这里,依然在创作着振奋人心的音乐。随着我们的咖啡将要喝完,爱书华沉思:"荣格说过我们生活就是重叠的反射自己。我的选择是回到起点,不再深入,而是回归。我开始意识到它既是终点也是起点。
While Proximity fans may be disappointed with the band's hiatus, be assured that Love is still present and making music as uplifting as ever. "Carl Jung was talking about how your life is an overlapped reflection of itself," he contemplates as our coffee comes to an end, "something happened recently which was a return point, there's no point to go further into the cosmos, but to loop back through and realize that everything is already as it was."
---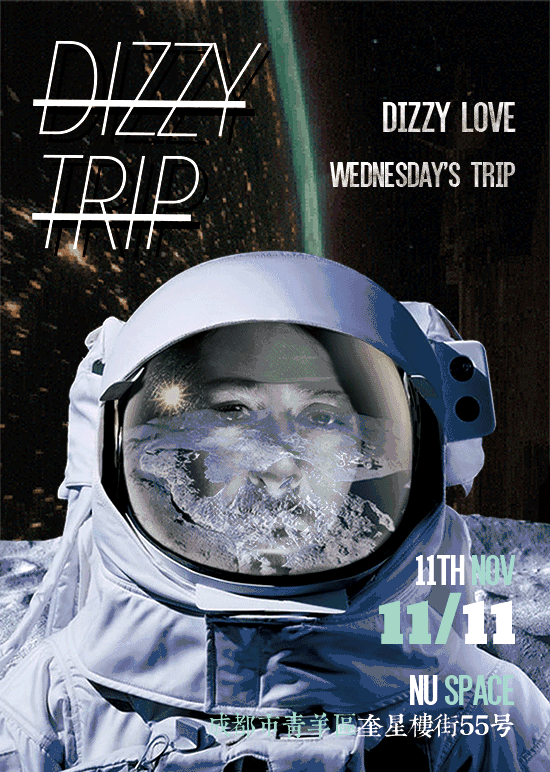 2016年11月11日,Dizzy Love和老朋友们星期三旅行要给大家一场星际演出从NU SPACE起飞!
On Friday 11th November, Dizzy Love will team up with old friends Wednesday's Trip to present a show of intergalactic proportions at NU SPACE.
采访和文字:Kristen Ng 伍思婷
中文编辑:兀鱼横流
照片:Dan Sandoval, Joshua Love, 满足视觉&明嘉影像, 陈闵川, 兀鱼横流